Energy Policy
Profectus Films GmbH sees its commitment to continuous improvement as an essential factor for entrepreneurial success. After the successful introduction and establishment of management systems in the areas of quality, environment and packaging safety, the introduction of the energy management system according to ISO 50001 followed in 2022.
Continuous improvement, especially in the reduction of our main energy sources electricity and natural gas, is the focus of our entrepreneurial way of thinking and acting.
We set ourselves the goal of reducing specific energy consumption in relation to the quantities produced by 30% by 2025, based on the reference year 2018.
We are committed to purchasing materials and services that are as energy-efficient as possible. We already take energy efficiency aspects into account when designing and acquiring new plant and machinery.
To achieve this, we are pursuing the following strategy:
– Establish an energy monitoring system to increase transparency through appropriate measurements

– Evaluate influencing factors and initiate appropriate measures to identify corresponding savings potentials

– Introduce processes and structures that enable us to achieve our energy goals.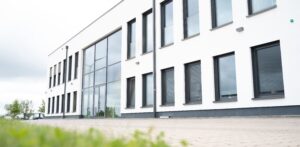 ↑